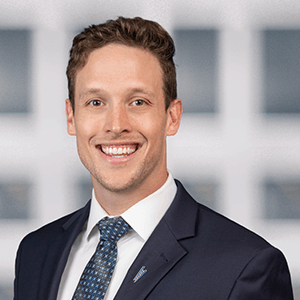 Photo of Connor Bauer
Connor Bauer

CPWA®
Business Development Specialist
Mr. Bauer joined City National Rochdale in 2017. He works as a Business Development Specialist providing support to the Senior Investment Consultants on the west coast. He is responsible for collaborating with Financial Advisors, CPAs, and various Broker-Dealers with the objective of providing customizable portfolio management solutions to their high-net-worth clients.
Prior to his role as Business Development Specialist, Connor was a part of City National Rochdale's Portfolio Analysis Team where he supported our Senior Investment Consultants by creating personalized analysis and client proposals, as well as communicating with prospective clients and their Financial Advisors to provide the highest degree of service.
Mr. Bauer attended Purdue University where he earned his BS in Finance and Management from the Krannert School of Management. He holds the Certified Private Wealth Advisor® designation. In his free time he enjoys traveling, snowboarding, and spending time with friends and family.
Get to know us.
If you have clients with more than $1 million in investable assets and want to find out about the benefits of our intelligently personalized portfolio management, speak with an investment consultant near you today.
If you're a high-net-worth client who's interested in adding an experienced investment manager to your financial team, learn more about working with us here