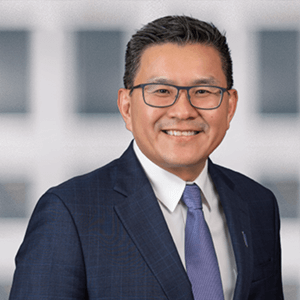 Photo of Brian Hsieh
Brian Hsieh

CFA, CPWA®
Director
Senior Investment Strategist
Mr. Hsieh joined City National Rochdale in 2019 and has 25 years of experience in the investment management industry. Based in Beverly Hills, he is responsible for working with City National's Private Banking division to lead and facilitate the investment business development efforts for high-net-worth private clients and institutions.
Prior to joining the firm, Mr. Hsieh was most recently employed at Wells Fargo Private Bank. As a Senior Investment Strategist and Senior Vice President, he was a portfolio manager for high-net-worth clients, trusts estates and charitable foundations. He was responsible for goal-based asset allocation, investment research and portfolio implementation.
Mr. Hsieh earned his BA from National Cheng-Chi University in Taipei, Taiwan with a major in Banking. He also earned an MBA in Finance from UCLA Anderson School of Business. He holds the Chartered Financial Analyst® designation and is a member of the CFA Society Los Angeles. Mr. Hsieh also holds the Certified Private Wealth Advisor® designation. He resides in Los Angeles, where he enjoys cycling and swimming. He is also fluent in Mandarin.
Get to know us.
If you have clients with more than $1 million in investable assets and want to find out about the benefits of our intelligently personalized portfolio management, speak with an investment consultant near you today.
If you're a high-net-worth client who's interested in adding an experienced investment manager to your financial team, learn more about working with us here