Announcing the Winner of the 2021 Phoenix Award
City National Rochdale Managing Director and Senior Portfolio Manager, Bill Black, is the recipient of the Smith's Research & Gradings 2021 Phoenix Award. The Phoenix Award recognizes Bill's accomplishments in the High Yield Municipal Bond industry and related in-person presentations at events this year. Smith's Research & Gradings notes how "Mr. Black demonstrated resiliency by finding value during the bounce-back that crushed credit spreads in 2021. Moreover, Mr. Black's fund saw sustained inflows during the first three quarters and posted returns that out-paced high yield benchmarks." Bill was presented with the Phoenix Award and keepsake crystal trophy at Smith's Research & Gradings' annual High Yield Municipal Bond Conference in October.

Mr. Black joined CNR in 2016 and brings over 33 years of expertise in the municipal bond industry to his current role managing the City National Rochdale High Income Municipal Bond Fund Portfolio. He also has experience as both an investment banker and a municipal bond analyst. In his free time, Bill likes to travel and explore new places.

Smith's Research & Gradings is renowned for their research and analyses contributions to Wall Street and the global capital markets. In particular, the company is highly regarded for their trend predictions and creation of the first comprehensive credit scale for the global fixed income markets.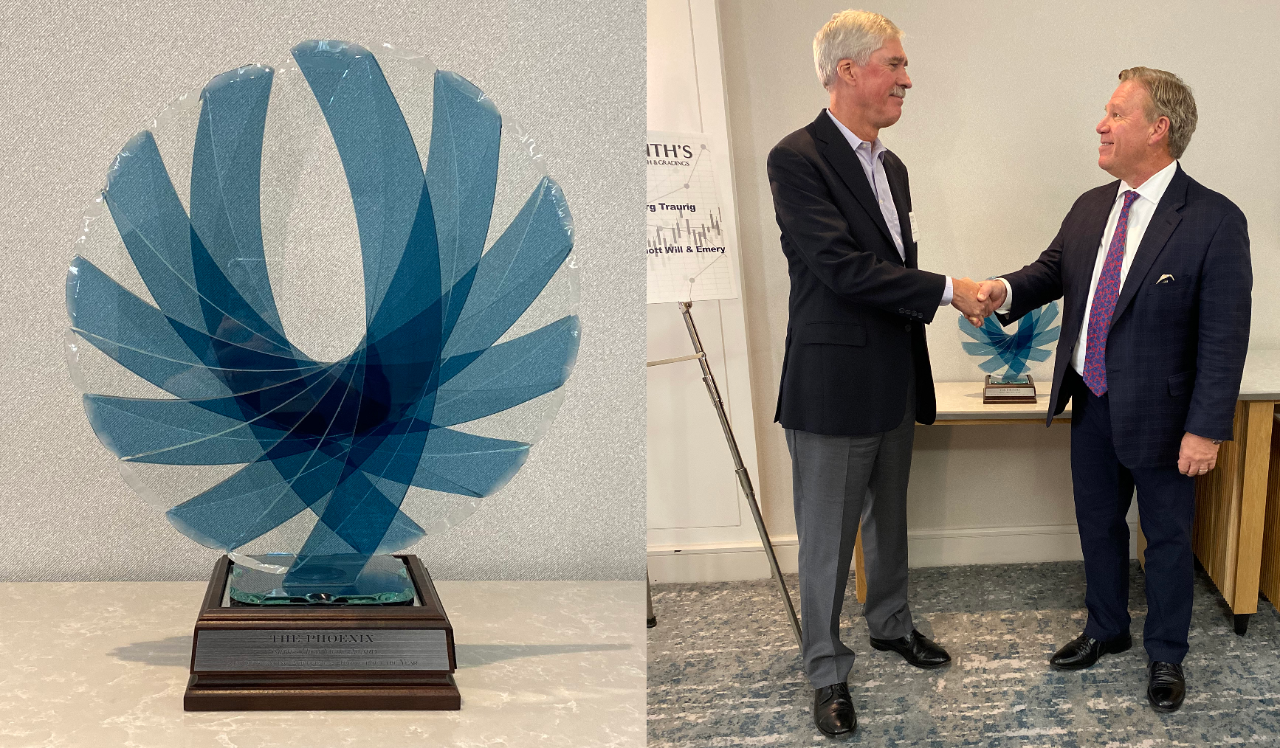 Left Photo: The 2021 Smith's High Yield Award. Right Photo: Bill Black (left) shakes Terry Smith's hand (right), as he accepts the 2021 Phoenix Award.
Important Disclosures
 
Risk Disclosures:

Investing involves risk including the potential loss of principal. There is no guarantee that a diversified portfolio will outperform a non-diversified portfolio in any given market environment. No investment strategy, such as asset allocation, can guarantee a profit or protect against loss in periods of declining values. Bond and bond funds are subject to interest rate risk and will decline in value as interest rates rise. High yield bonds involve greater risks of default or downgrade and are more volatile than investment grade securities, due to the speculative nature of the investment. There is no guarantee that the Fund's income will be exempt from federal or state income taxes. Capital gains, if any, are subject to capital gains tax. Income from municipal bonds may be subject to the alternative minimum tax. Please note that individual situations can vary. Therefore, the information presented here should only be relied upon when coordinated with individual professional advice.

An investor should consider carefully the Fund's investment objectives, risks, charges and expenses. The Fund's summary and full prospectus contains this and other important information about the investment company, and it may be obtained by calling 800-245-9888. Please read it carefully before investing.

The fund is distributed by SEI Investments Distribution Co. (SIDCO), 1 Freedom Valley Drive, Oaks, PA 19456. SIDCO is not affiliated with City National Rochdale Investment Management, City National Bank, or any of their affiliates or the sub-advisors.
Put our insights to work for you.
If you have a client with more than $1 million in investable assets and want to find out about the benefits of our intelligently personalized portfolio management, speak with an investment consultant near you today.
If you're a high-net-worth client who's interested in adding an experienced investment manager to your financial team, learn more about working with us here