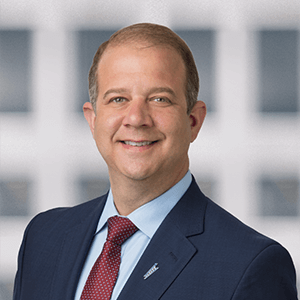 Photo of Jim Papadakos
Jim Papadakos

Sales Strategy and Advisor Engagement & Experience
Mr. Papadakos joined City National Rochdale in 2018 and has over 20 years of experience in the financial services industry. He is a member of the Executive Management Team and is responsible for leading the Sales Strategy and Advisor Engagement & Experience functions where he works closely with internal and external partners to identify opportunities that deliver greater value to clients.
In his prior experience, Mr. Papadakos most recently worked at Prudential Financial where he led digital product strategy with leaders across the Annuity, Retirement, and Group Insurance Businesses. Prior to that Mr. Papadakos spent over 15 years at Citibank holding diverse leadership positions that spanned Marketing and Client Experience across various divisions of the Global Consumer Bank.
Mr. Papadakos received his Masters in Business Administration from the Stern School of Business at New York University and his undergraduate degree from the University of Connecticut where he graduated Summa Cum Laude. In his spare time, Mr. Papadakos enjoys spending time with family and friends and is an avid cook and boater.
Get to know us.
If you have clients with more than $1 million in investable assets and want to find out about the benefits of our intelligently personalized portfolio management, speak with an investment consultant near you today.
If you're a high-net-worth client who's interested in adding an experienced investment manager to your financial team, learn more about working with us here