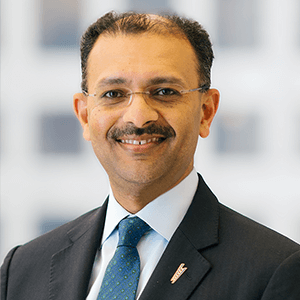 Photo of Subir Prasad
Subir Prasad

Digital and Information Officer
Senior Managing Director
Mr. Prasad joined City National Rochdale as a Senior Managing Director in 2016 and has over 20 years of experience in the financial services industry in both technology and operations. As the executive leading the digital transformation strategy at City National Rochdale, he manages the information technology team and works closely with various departments to deliver the right solutions for their business needs.
Prior to City National Rochdale, Mr. Prasad served as EVP, Chief Digital Officer at Banc of California, where he was responsible for the development of the digital strategy and its execution across various banking divisions. In his previous experience, he was CIO, Sr. Managing Director at Home Point Financial Corporation, a de-novo mortgage banking company where he led the company in leveraging cloud-based solutions to build the technology infrastructure and core operating platforms. His experience also includes serving as SVP, Business Technology Executive at Bank of America's Home Loans division, where he managed initiatives across information management, finance, accounting, trading, risk management, and secondary marketing business, and senior positions at Countrywide, ING Direct, Ally Bank, and GMAC Residential.
Mr. Prasad holds a Master of Science in Electrical Engineering from Clemson University and a Bachelor of Engineering in Electronics Engineering from BIT, Bangalore, India. He spends his free time playing golf, tennis, and running. He also enjoys traveling with his wife and twin daughters, exploring new locales and exotic foods, and supporting his family on their charitable endeavors.
Get to know us.
If you have clients with more than $1 million in investable assets and want to find out about the benefits of our intelligently personalized portfolio management, speak with an investment consultant near you today.
If you're a high-net-worth client who's interested in adding an experienced investment manager to your financial team, learn more about working with us here