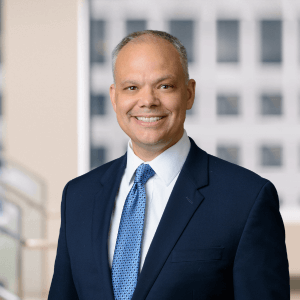 Photo of Brian Salerno
Brian Salerno

CFA, CPWA®
Senior Portfolio Manager
Mr. Salerno joined City National Rochdale in 2015 and has over 20 years of professional investment management experience. He works closely with each client's advisor to develop a customized portfolio based on the client's investment objective, time horizon, income needs, and tolerance for market volatility. In this role, he is responsible for the investment strategy implementation and monitoring of private client portfolios, as well as direct relationship management.
Prior to City National Rochdale, Mr. Salerno worked at Huntington National Bank as a Senior Portfolio Manager, where he managed individual portfolios for high-net-worth investors. At Huntington, Mr. Salerno constructed an actively managed ETF focused on environmentally responsible companies and rang the opening bell of the NYSE to commemorate its launch. Previously, he managed a multi-billion dollar mutual fund in the technology sector at Munder Capital Management. Mr. Salerno began his career with analyst positions at the Ohio School Employees Retirement System and the Ohio Public Employees Retirement system.
Mr. Salerno holds a Bachelor of Business Administration, cum laude, from the University of Notre Dame. He also earned a Masters of Business Administration from The Ohio State University, with the distinction of Weidler Scholar. Mr. Salerno has appeared on CNBC, Fox Business News, and has been featured in articles from Forbes, TheStreet.com, Investor's Business Daily, and USA Today. Mr. Salerno holds the Chartered Financial Analyst® designation. He enjoys long walks in the Florida sunshine with his wife, Maureen, and spends most of his free time with family. He has a son and daughter in college, a son in high school, a loving wife, and two energetic boxers.
Get to know us.
If you have clients with more than $1 million in investable assets and want to find out about the benefits of our intelligently personalized portfolio management, speak with an investment consultant near you today.
If you're a high-net-worth client who's interested in adding an experienced investment manager to your financial team, learn more about working with us here