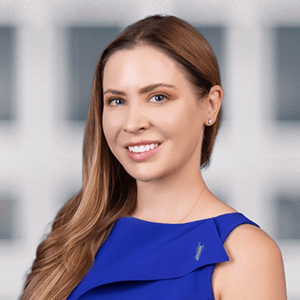 Photo of Lindsey Cook
Lindsey Cook

CFA, CPWA®
Senior Portfolio Manager
Ms. Cook joined City National Rochdale in 2010 and has 15 years of experience in the financial services industry. She works closely with each client's advisor to develop a customized portfolio based on the client's investment objective, time horizon, income needs, and tolerance for market volatility. In this role, she is responsible for the investment strategy implementation and monitoring of private client portfolios, as well as direct relationship management. 
Ms. Cook began her career at Banc of America Investments on the trading floor. She then joined AXA Financial where she performed research, analysis and execution of investment models for high-net-worth clients.
Ms. Cook earned her BA in Business Administration and Economics as well as her MBA in Finance and Entrepreneurship from Loyola Marymount University. She also completed post graduate studies in probability theory and mathematical finance. Ms. Cook holds the Chartered Financial Analyst® designation and is a member of the CFA Society of San Francisco. She is also a Certified Private Wealth Advisor®. In her free time she enjoys travelling around the world, viticulture, boxing, martial arts, and yoga. Ms. Cook also likes spending time with friends and family, and is active in the vegan community. 
Get to know us.
If you have clients with more than $1 million in investable assets and want to find out about the benefits of our intelligently personalized portfolio management, speak with an investment consultant near you today.
If you're a high-net-worth client who's interested in adding an experienced investment manager to your financial team, learn more about working with us here