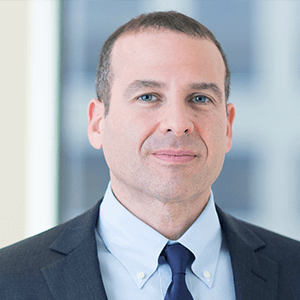 Photo of Paul M. Guerney
Paul M. Guerney

CFA, CAIA, CPWA®
Eastern Divisional Managing Director
Senior Portfolio Manager
Mr. Guerney joined City National Rochdale in 2001. He works closely with each client's advisor to develop a customized portfolio based on the client's investment objective, time horizon, income needs, and tolerance for market volatility. In this role, he is responsible for the investment strategy implementation and monitoring of private client portfolios, as well as direct relationship management.
Previously, he worked as an Investment Officer at EnvestNetPMC Advisory, where he advised financial planners and private clients on portfolio structure and strategy. Other responsibilities included researching both hedge funds and traditional money managers and developing strategic new product initiatives. Prior to business school, he spent three years as an analyst at Goldman Sachs & Co., where he worked in both Corporate Treasury - Cash Management and Institutional Fixed Income - Sales and Trading. Mr. Guerney began his career as a junior auditor for PriceWaterhouseCoopers in the Entertainment and Media practice.
Mr. Guerney holds a BA in Economics and Psychology from Fairfield University and an MBA in Finance and Management from New York University, Stern School of Business. He also completed a Certificate Program in the Digital Economy at New York University. He holds the Chartered Financial Analyst® designation, is a member of the CFA Institute, and holds the Chartered Alternative Investment Analyst designation. Mr. Guerney is the proud father of three young children and enjoys spending weekends with his family.
Get to know us.
If you have clients with more than $1 million in investable assets and want to find out about the benefits of our intelligently personalized portfolio management, speak with an investment consultant near you today.
If you're a high-net-worth client who's interested in adding an experienced investment manager to your financial team, learn more about working with us here