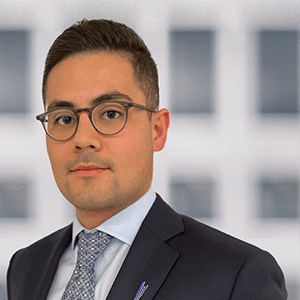 Photo of Juan Arcila
Juan Arcila

Business Development Specialist
Mr. Arcila joined City National Rochdale in 2021. In his role, Mr. Arcila provides support to the Senior Investment Consultants in the Delaware, Pennsylvania, New Jersey, Washington DC, Kentucky, Maryland, West Virginia, and Northern Virginia in the Mid-Atlantic region. As Business Development Specialist, he is responsible for cultivating relationships with financial advisors, CPAs, attorneys, and their clients.
Before advancing to his current role, Mr. Arcila was a member of the Portfolio Strategy & Design team where he worked with Senior Investment Consultants to evaluate high-net-worth client portfolios and develop investment strategies.
Prior to joining City National Rochdale, Mr. Arcila was an Account Manager at CreditSights. In this role, Mr. Arcila helped Brokers, Financial Advisors, and Private Wealth Managers leverage fundamental and quantitative research to formulate credit market recommendations, aid in asset allocation reviews, manager selections, and make prudent investment decisions on behalf of their valued clients.
Juan earned his B.S. in Finance & Economics from the University of Scranton. He is currently a 2023 Level 1 Candidate for the CFA Program. Juan enjoys spending time with family and friends, golfing, traveling, and giving back to his community.
Get to know us.
If you have clients with more than $1 million in investable assets and want to find out about the benefits of our intelligently personalized portfolio management, speak with an investment consultant near you today.
If you're a high-net-worth client who's interested in adding an experienced investment manager to your financial team, learn more about working with us here